International MX5 meeting in Normandy,

June 3rd and 4th 2017.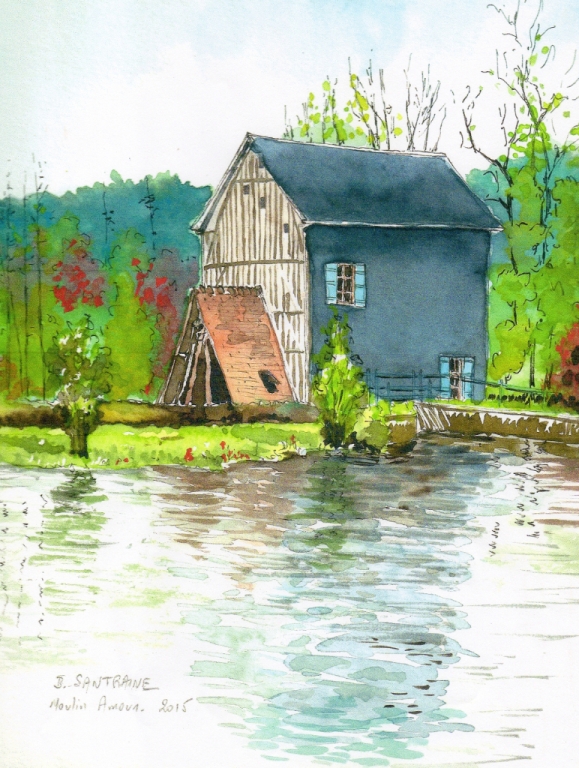 The Location:
Moulin Amour - The last remaining functioning water mill of 17 original mills built on the River L'Oison. Since 1972 owned and operated by a preservation Association. (AVPN)
The meeting place for this event.
Close to Elbeuf (76) - Route du Moulin, 27370, SAINT OUEN DE PONCHEUIL, Normandie.
DD Latitude 49,24182 : Longitude 0,954465 / DMS Latitude N49⁰ 14'30'' Longitude 0⁰ 57'16''.
PDF registration
Send the completed pdf to :
tresorier@mx5france.com
Looks there is a trap in the PDF with regard to the payment links, please use the bank account or Paypal mentioned below. the correction will require few days before being on line unless you can print, fill manually and then scan back to the tresorier address.
Attendance fee for the weekend
- €20 for driver €10 for passenger. This includes admission fee to the Mill, plus cost of the extras provided, NO profit to the organisers, or to the Club. Drives and other expenses are at your discretion.
The main course (chicken with roasted potatoes, and coffee) is included ; drinks and pancakes made with the flour of the mill will be proposed on the site by the mill association (please plan for € cash).
Registrations for the weekend till April 1st, 2017
Maximum registrations: 200 cars
Events
Saturday June 3rd : Saturday afternoon.
• Reception of the participants 2 to 3 pm & Presentation of activities
• From 3 pm to 6 pm; 2 drives, each twice, plus photos in front of the smallest town hall in France.
• Free activities: walking to source of Oison, exhibitions on the site; Friendship wine at 6 pm.
• Departure to accommodation: closure of the site at 19:30.
Drives - 1)
http://www.harcourt-normandie.fr/
2 visits, 20 cars maximum for each visit + 2 supervisors for each drive.
2)
http://www.hautsevents.com/recttes/
(Cider House) 2 visits, 20 cars maximum
for each visit + 2 supervisors.
On the way back, stop to the Townhall for the picture for the drives attendees.
Visits to be confirmed. Note – timing will be crucial, so be ready when called first for the pre-grid.
Sunday June 4th: Sunday morning, From 10 am to 1 pm - Welcome coffee.
• 2 local drives (each travelled 2 times as day 1) > 20 cars maximum + 2 supervisors per drive.
Without stop to the Townhall.
• Free activities: not included in the agenda (visit of the bread oven - before 9am)
Lunch Break 13:00 - 14:30. A free simple French lunch is offered for all.
Sunday afternoon
• Closing of votes
• Presentation of nominated MXs for the most admired car competition
• Presentation of prizes: contest and raffle (Raffle is free to each car attending)
• Closing of the event (5 pm)
• Departure of participants (5 pm)
• Closing of the site (6.30 pm)
Registration form below to be sent to :
Club MX5France
80 rue des Pontreaux,
44340 Bouguenais FRANCE
Payment:
1. Bank transfer on the club account IBAN ;
details below
Recipient: Club Mx5France
IBAN : FR76 1670 6050 0616 4435 4270 912
BIC : AGRIFRPP867
Bank : CRCAM NORD DE FRANCE - 62000 ARRAS
Please include the following: VIR "200MX5" + (Name first name, nickname, nationality)
2. Paypal
email
club@mx5france.com
, with following reference
Paypal "200MX5" + (Name first name, nickname, nationality)
Will validate the registration, within a maximum period of time of 7 days
Cancellation conditions
1) In case of cancellation up to 1 month before the date, through mail to the organization cc
club@mx5france.com
, reimbursement will be total.
2) for cancellations less than 30 days before the event, reimbursement should not be expected unless the place can be reallocated.